Speaking &
Thought Leadership
As a leading expert on diversity and inclusion, Sara Jones is a frequent keynote and distinguished speaker to audiences of all sizes. She speaks on a wide variety of leadership, entrepreneurship, and D&I topics – both in-person and virtual.
A speaking engagement is often an effective way to launch ideas and inspire new mindsets around Diversity, Equity and Inclusion within your organization.
Examples of speaking events include
Conference keynotes

Virtual events

Corporate leadership retreats

Workshop facilitation

Organizational training

Storytelling workshops, and more
---
Contact us for customized speaking engagements.
"
I invited Sara Jones to keynote for Xant Next2020 Leadership Conference because of her unique ability to bring empathy into her work through her storytelling and to motivate our attendees to be passionate about the power of connection and authenticity. She seamlessly taught the audience how to build connection in their own sales careers and lives. I had several audience members thank me afterward for such a unique and powerful story to motivate and inspire them.
Sarah Thompson
Director of Field Marketing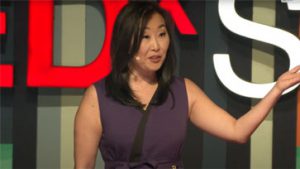 Adopted as a child by white parents, all that linked Sara Jones to her South Korean origins was a mysterious tattoo on her forearm. Sara's search for her birth family informed new insights into the narratives and deep complexity of adoption. Through her experience of loss and discovery, Jones offers guidance on what adoptive parents can do to protect their children's unique cultural and personal narratives.